About Kathryn Ullrich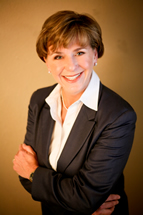 Kathryn Ullrich is a dynamic business professional with a passion for helping people with career advancement. She leads the Getting to the Top career development programs at Stanford Graduate School of Business and UCLA Anderson School of Management. Through these career programs, well over 1,000 attendees have learned the career paths and skills to be successful in different functional areas including marketing, product management, public relations and corporate communications, strategic alliances and channels, sales, business development, consulting, private equity, general management, COO, and CEO.

Kathryn has ten years of executive search experience with her own firm and Russell Reynolds Associates. She interviews and provides career guidance to C-level, VPs, Directors and Managers in high technology and consulting companies.

Kathryn brings a rich career background to her job. She has a BS electrical engineering, cum laude, from University of Michigan and worked in a management development program, engineering, service and product marketing at GTE before attending business school. She graduated from UCLA Anderson School of Management with an MBA and top Carter Honors. Since business school she has had successful careers in strategy consulting with Accenture and software product marketing with Siebel Systems before becoming an executive recruiter. In addition to starting a thriving recruiting business, Kathryn has also co-founded a Silicon Valley non-profit, now SDForum Tech Women's Program, with the mission to educate, mentor and connect women in technology.

Kathy Ullrich was previously VP of the Board of Directors for the UCLA Anderson School Alumni Association, MBA Alumni Class President, Member of the Board of Directors for the University of Michigan Alumni Association, Regional Director for the Silicon Valley chapter of WITI, and a selected participant for Leadership California. She was the recipient of the Kenneth Ernst Thought Leadership Award at Accenture for a groundbreaking industry study and holds patents in video on demand from work at GTE.

Kathryn is mother of two young boys, plays competitive tennis, enjoys sailing and entertaining, and is writing Getting to the Top for aspiring career professionals.